Union Budget 2021 Update: Union Budget 2021 India Live, our FM Nirmala Sitharaman Speech Latest Updates: We all have great expectations and high hope that this year 2021 the government will boost our economic revival by focussing on different fields like rural economy, infrastructure, healthcare, agriculture, MSMEs sectors impacted by the Covid-19 pandemic and lockdown restrictions. Here you can check the detailed information about Union Budget 2021 Update
Today Our Finance Minister Nirmala Sitharaman will present the Budget in Parliament at 11 AM. This time the budget is really very sensitive for all Indians. The budget comes at a time when India is resolving the coronavirus pandemic and our economy is reeling very down because of the lockdown.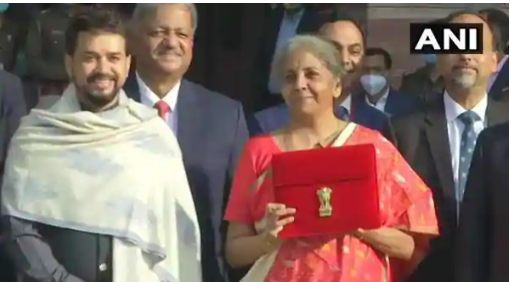 Union Budget 2021 overview
The union Budget 021 unveiling will start with the first speech by Finance Minister Nirmala Sitharaman scheduled to take place at 11 am sharp. FM has promised a budget is really helpful for the country in different ways. The Indian Prime Minister Narendra Modi-led govt will present it after announced the complete budget 2021.
Nirmala Sitharaman's Budget on 1 Feb is expected to revolve around the philosophy of "growth with a human touch" and completely focused on raising farmers and their actual need' incomes, generating jobs for the youth, improving health care standards, and ease of compliance for businesses and for citizenship.
At the start of the joint session of Parliament on Friday, PM Narendra Modi said the FM had already announced 3-4 mini budgets in the previous year that the 2021-22 Budget should be seen as an extension of the same effort. After an estimated 7.7 percent contraction in 2020-21, the Finance Ministry's Economic Survey projects that India's real GDP would record a growth of 11 percent in 2021-22. The nominal GDP growth has been estimated at 15.4 per cent, implying an assumption of 4.4 percent inflation during the year.
Government has proposed farm cess of Rs 2.5/litre on petrol, Rs 4 on diesel
Government has proposed farm cess of Rs 2.5/litre on petrol, Rs 4 on diesel
Budget 2021 for 'Aatmanirbhar Bharat': Rajnath Singh
This is a budget for 'Aatmanirbhar Bharat', will strengthen economy, says Defence Minister Rajnath Singh (PTI)
Budget 2021: FM Sitharaman spoke for nearly 1 hour, 49 minutes
Finance minister Nirmala Sitharaman concluded her Budget speech at 12.50 pm. In February 2020, FM Nirmala Sitharaman spoke for a record 162 minutes — two hours and 42 minutes — in Lok Sabha. FM Sitharaman only had two pages of her Budget speech unread, when she appeared uneasy and her Budget speech was cut short.
Budget 2021: FM on customs duty
Exemption duty on steel scrap up to March 2022; customs duty on naphtha cut to 2.5 pc: FM
Rationalising customs duties on gold and silver, says FM in Budget for 2021-22
Customs duty on cotton increased to 10%, silk to 15%
Customs duty on solar lanterns cut to 5%
Sensex climbs over 1,000 points, Nifty inches closer to 14k-mark as Sitharaman presents Budget 2021
Sensex rises 1420.03 points, currently at 47,705.80. Nifty up by 362.70 points, currently at 13,997.30
Budget 2021: What FM said
FM proposes tax exemption for aircraft leasing cos; tax exemption for notified affordable housing for migrant workers
Rs 1.5 lakh deduction on payment of interest for affordable housing extended by 1 yr:
Record GST collections in last few months; govt to take every possible measure to reduce anomalies
Tax holiday for startups extended by 1 yr; exemption on capital gains on investment in startups extended by 1 yr
Customs duty on some auto parts to be raised to 15 per cent
Talking about GST, FM Sitharaman said that the government is focused to further ease the process. "Customs duty on copper scrap cut to 2.5 per cent. Customs duty on some auto parts to be raised to 15 per cent."
NRIs allowed to operate One Person Companies in India
Late deposit of employee's contribution to PF by employers will not be allowed as deduction to employer
Tax holiday for start-ups increased by one more year – till March 31, 2022
NRIs allowed to operate One Person Companies or OPCs in India
What FM Sitharaman said on taxation sector
Finance Minister Sitharaman proposes policies to make it easy for foreign investors to invest in India's infrastructure projects
Propose to make dividend payments to REIT (estate investment trusts) and Invit's (Infrastructure investment trusts) exempt from TDS
To further ease filing of IT returns, details of capital gains and interest from banks, post offices, etc will be pre-filled
What is Union Budget?
Union Budget is a statement of the estimated receipts & expenditure of the govt. for that particular year. According to Article 112 of the Indian Constitution, the Union Budget also referred to as the Annual Financial Statement. Govt. presents it on the first day of February, so that it could be materialized before the beginning of new financial year. Until 2016 it was presented on the last working day of February. Keep bookmark this page and get the latest update of Union Budget 2021.